Course details
【All-you-can-eat course with 35 items】 ☆ All-you-can-eat for 2 hours 1480 yen (excluding tax)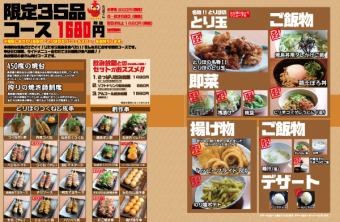 By using a coupon1480 yen
Elementary school student 980 yen / 4 to 6 years old 480 yen / under 3 years old / free / over 65 years old 1280 yen (※ tax excluded price)
Reservation deadline

Until 21 o'clock on the desired shopping day
Available days for reservation

Monday - Sunday - Public holidays - Holidays
I want to eat yakitori only first! First of all I want to be full! This course is recommended for those who like it.35 items in total including Yakitori and side menu, all you can eat at the price of the foundation.
Course menu
【35 all-you-can-eat menu】
Yakitori
⇒ Mutsu / Scissors / Momo / Negima / Crispy skin / Juicy skin / Tsukune
◆ Special creative skewers
⇒ Fuwafu Negiyaki / Takoyaki / Maple potato mochi / Mitarashi dumpling / fried dumpling
◆ Instant
⇒ refreshing delicious cabbage / Sendai miso cabbage / Edamame
Deep fried chicken ◆
⇒ specialty! TORI fried chicken / pickled chili
◆ fried food
⇒ Consommé kick! / Pizza Pote?
◆ rice
⇒ rice with white rice / bamboo chicken egg
◆ Udon / Juice
⇒ chicken juice / soup udon (cold)
【open bar】
◆ Alcohol: + 1980 yen (excluding tax)
◆ Soft drink: + 680 yen (tax excluded) [※ Elementary school student 380 yen (tax excluded) / 4 to 6 years old 100 yen (tax excluded) / less than 3 years old free]
***********************************************************************
【Trial knowledge [1]】
★ The first store of all - you - can - eat is located in Utsunomiya - shi, Tochigi Prefecture.
☆ Bird 's all - purpose sauce is a secret sauce that can only be obtained with birds.
★ Because you can eat as much as you want, challenge various parts of birds!
☆ Let 's make a reservation well on weekends.Also, please prepare your stomach condition.
★ On Twitter, since I want to see the face everyone enjoys, I'd like you to do "# free birds".
【Trial knowledge [2]】
★ Scissors are high-quality meat in the chest of chickens and are rich in protein.
☆ Skin skewers are using thick, umami "bird's neck skin"!
★ The thing about the bird 's neck meat.Moderate fat glue condition and body tightness are very delicious!
☆ Bonjiri is the part where the chicken tail feathers, only one can be taken from one tail!
★ The etymology of Hatsu comes from "Heart = Heart".
***********************************************************************
Coupons that can be used with this course
2018/10/29 update